An All-Star Comedians' gathering to settle a serious issue in the Stage Play entitled UMOUFIA
There is a very serious general meeting at UMOUFIA on a less important issue and GH Media School is making sure the nation witnesses it at the National Theatre on Sunday, 13th February, 2022. Be present at 4pm / 8pm. Note: please come with extra ribs.
A popular prophet's prophecy of an old soldier going to die comes through. The family and friends wish not to have the Prophet go scot-free. Hence, instigates the close relations of the deceased to take up any form of action against the prophet. Will the family get their pound of flesh?? However, if it were you, what will you do??
This stage play features Foster Romanus, Clemento Suarez, Jeneral Ntatia, Lawyer Nti, Daniel Delong, Dr. So. This time around, it features new faces in the stage comedy sphere. OB Ampansah, Lekzy DeComic, Oh Joo Sammy, NGO and Louis Lamis. Taking these fishes out of the water and placing them on land; the land of stage acting.
This play is helmed by the talented stage director of numerous successful plays as Accra We Dey, Are We Safe?? and the recently sold out post-pandemic convention, Arsenal Again??, the Oxygen of all theatre/comedy production in the nation presently; Francis "Oxygen" Tetteh Nutakor.
This play is powered by one of the leading names in media and film arts' tuition; GH MEDIA SCHOOL. The institution ventures into the Theatre sphere on this to culminate the brand of versatility in producing arts in general having housed the staging of SuperFam's The Family. Hence moving further to bring an all-star comedy convention to light is one monumental feat that needs to be extolled.
Do well to block the 13th February 2022, Sunday as your official Valentine's date at the National Theatre. Play begins at exactly 7:00 pm for a cool rate of GHC100 – Regular and GHC150 – VIP.
Disclaimer: patrons are advised to come with extra ribs for they are bound to laugh till UMOUFIA hoists the banner of peace in this less important issue of a serious nature.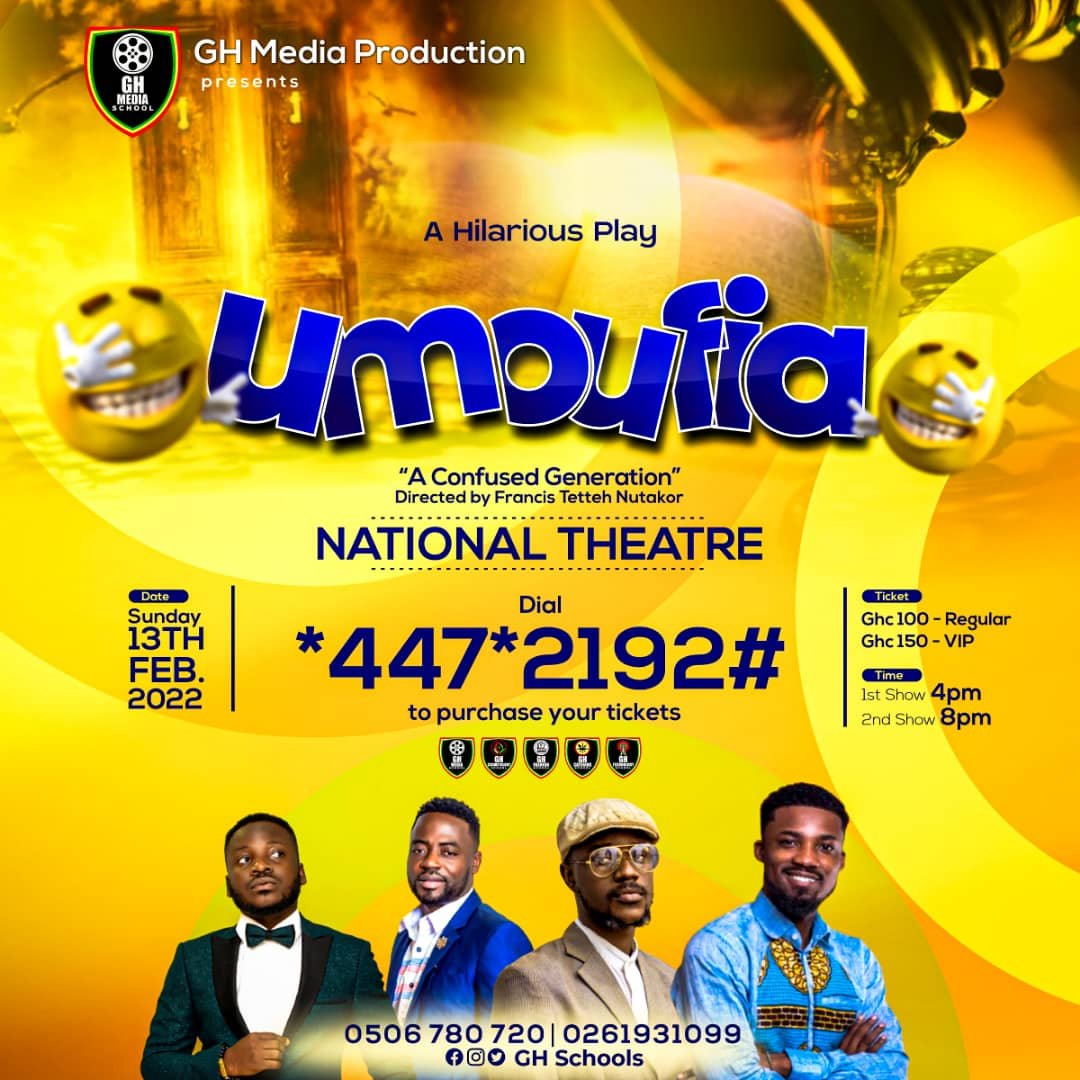 For the purchase of a ticket, kindly dial *447*2192#. Alternatively, reach the Accounts Officer, Desmond on 0506780720. Other information, enquiries on Sponsorship and others can be sorted by the production manager Mawuli on 0558253531 / 0272700250.
#UMOUFIAstageplay #GhMediaSchool #GhMediaProduction
credit:
Faiba Bernard