#HCW "Heaven Can Wait" To Premiere on the 15th of September.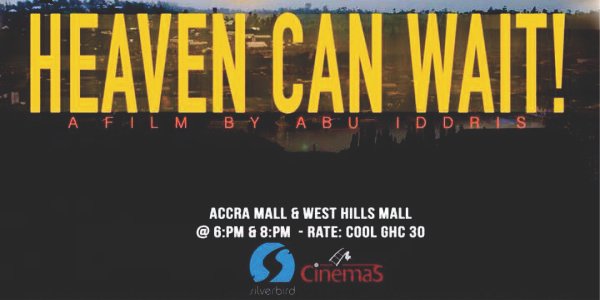 HEAVEN CAN WAIT SYNOPSIS
With the seemingly impossible to penetrate "MENTAL BRIDGE" between what "Ghanaian societies" classify as HIGH CLASS & LOW CLASS, most men with dreams are often limited by the misconception of their actual reach!
APIO RICHARD, a slightly dumb and gullible man living in the suburbs; is crazily obsessed with his favorite celebrity, ANITA ASEMPA, who hates men for unknown reasons and is incredibly arrogant to the apex! the obvious contrast between her lifestyle and his leaves Apio with nothing but impossible dreams in his " DREAMBOX", as teasingly uttered by his roommate, SHAMUNA.
Then came ATO, a smart teen "with a quiet interesting and inspiring life story" with a project to change the world, he claims to be Anita's brother, and promises to give Apio the secrets to decoding his sister on a batter deal, since Apio has a zero percent confidence to face the TIGRESS, and would practically do anything for her attention, he jumped on and does all of Ato's bidding, wait for it.
Meanwhile PRINCE YAWSON, an intelligent and handsomely charming prince living quiet a simple life away from his Kindom; has been trying his luck on Anita for a very long time; but he failed to win even a good two minutes of her time because she practically makes it impossible for any man to get close enough to knowing her beautiful soul.With  Prince's persistence coupled with the help of his intelligent sister , ROSE! He got closer to a possible affair with the tigress…. but he has a life changing secret,
APIO on the other hand discovered more than he signed up for with ATO, he lost hope and almost gave up till an unexpected twist raises his 0% chance to 99.9% the very first time he met Anita! Her past resurfaced to cause a stir, and one thing became obvious, it takes a bullet to get her attention, WHAT WOULD IT TAKE TO GET HER HEART?
HEAVEN CAN WAIT, what could be more important?
Heaven can wait is written, directed, edited and produced by Abu iddris #thecinegod
It also stars Hogan Gabriel, Aaron Adatsi, Regina Van-Helvert, Jose Tolbert, Jasmine Baroundi, Ivan Amenyedor and Manaf Df.
GENRE: DRAMEDY
DURATION: 120 MINS
OPENING DISTRIBUTOR: SILVERBIRD CINEMAS
(TO DISTRIBUTE / MARKET / SHOW AT A VENUE – send a mail to cinegodstudios@gmail.com)