Movie Review: Arranged Marriage – A dark twisted rom-com.
Arranged Marriage tackles ever so interesting subject of arranged marriages in a unique way using comic and horror elements.
In the film, Kamali a young woman is bent on going against her families' cultural beliefs and traditions and settling down with her American boyfriend Clive. But her family has already prepared a surprise marriage for her. She is to be married into a well to do engineering family which she is not happy about. She introduces Clive to her family but they are not happy about that. Kamala's father vows that he will stop at nothing to ensure the wedding goes ahead and vows vengeance on anyone who tries to stop it.
The overall acting in the film might not be the best you have seen but it works regardless. Megha Sandhu at-least does a more than decent job with her role as Kamali. She plays the 'modern' South Asian American with so much ease. She is pretty and likable. She casts the mold of a young individual looking to break free from the shackles or culture and patriarchal oppressions. Many times, we see her dare to stand up against her family and question their stance and beliefs and we see the fieriness in her. We also see that she is still a woman with emotions and a mind that can also be altered by the people she chooses to be around.
As the lead cast Sandhu is able to carry us all through to the end of the film even when it feels a bit more awkward and cheesy than we anticipated.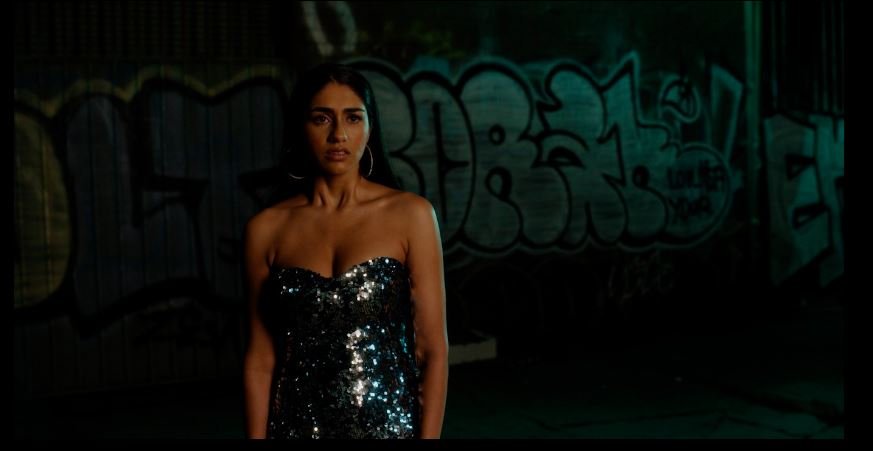 The film generally attempts to be a blend of satire and horror. It however tends to lean a lot more towards the satire for me. But it is not comedy that has me laughing and falling out my seat whilst holding onto my ribs for my dear life.
But is it a good enough Halloween film? When Kamali's male friends start dying in gruesome ways, we are not immediately sure how or what is killing them. The scene switches to red and dark lighting and then is accompanying by some eerie music. Your initial thoughts are that there must be something paranormal going on. But we later find out that Kamali's father and her cousins are behind the violent deaths.
Kamili's father (played by Kavi Raz) is also a delight to watch. He is fiery and mean and typical no-nonsense patriarch. Even as the film's antagonist he cuts the figure of a father who will do anything to make sure her daughter gets what he believes is best for her.
Anyone who comes from a place where inter-tribal or racial marriages are frowned upon can relate to this film. That's where its strength lies. It tackles a strong subject matter that is definitely conversation worthy. Patriarchs will always exist but it takes an equally strong will to rise up and challenge them.  Arranged Marriage presents us to a strong woman and her desire to go against the strict barriers of her culture.
The script from the film's director Anoop Rangi seems also to focus on the differences between Western cultures and Desi cultures. The humor mostly dark comedy that might not be okay for everyone.
Besides that, the film's plot seems to tackle more than it can really handle for an indie film. I would score this film 5/10. You can't make much of the film story but its intent is somewhat clear enough.
A greater part of the film also feels like a typical romantic comedy with some gore. Excerpt that this doesn't end with the typical happily ever after climax.
Arranged Marriage is available for streaming on all major streaming platforms starting October 14. Do check it out and share your thoughts on it as well.