Documentary Review: 'California's Forgotten Children' – A Harrowing Look into Child Sex Trafficking.
'Carlifornia's Forgotten Children' is a documentary film about child sex trafficking. The film recounts true stories of girls and boys who were commercially sexually exploited in California and are now survivors and courageous leaders fighting for the rights of victims worldwide.
It is scary to know that 2000 children go missing in the United States every day with most of them getting trafficked and sold and exploited for sex.
One thing that this documentary makes very clear is that any child of any race or gender can be trafficked. Especially as long as it provides the traffickers with an opportunity to make money. That means no child is safe.
The film is laden with statistics and data that are sporadically splashed across the screen throughout the film. As harrowing and disheartening as some of these figures might seem it is right that they are put out there to help make a change. 
It is shocking to know that children being sold for sex happens an average of 15 times a day generating a $9.8 Billion industry which is now the fastest-growing and second-largest criminal industry in the world. 
California is interestingly one of the hotspots for this industry. From the film, we learn that domestic and international human trafficking is prolific in this area because of its large population, international borders, ports and metropolitan regions. We also learn that media and treatment have played a role in the proliferation of habits and ways of life that seem to contribute to the high demand for young boys and girls being trafficked.
What's more saddening is that these young girls who are forced and exploited for sex are often arrested and mistreated rather than being saved and protected by the authorities. They are often treated like criminals when they are victims of a failed system and society.
The film features interviews with persons who have had first-hand experience with child sex trafficking. They share their true testimonies and experiences of being trafficked and commercially exploited for sex at some point in their lives. The accounts that they give are in themselves painful to imagine but some of these and reenacted in the documentary to give you a proper perspective.
But most of them are not just sharing their stories and being bitter at the universe and the system, they are being active in ensuring that things change for the better. They helloing spread awareness about the situation and help with solutions and advocacy work that is intended to help make the lives of children especially those in the foster care systems much safer.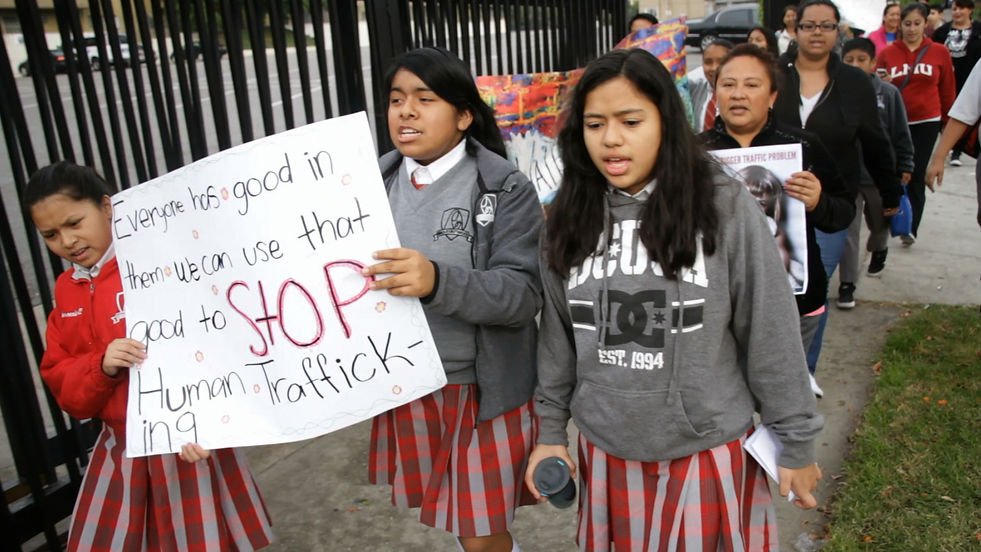 There are also interviews from law enforcement personnel who also share some of the horse realities on the ground concerning the situation. They admit that they might be doing their best but their best is not enough and more can be done to help remedy the situation.
Several organizations have been committed to helping this fight against child sex trafficking and a few are highlighted in this documentary as well. They include, the Coalition to Abolish Slavery & Trafficking, Heat Watch and California Against Slavery. We get to know some of their activities and programs that are catered to help children that have been trafficked or forced into the commercial sex trade.
The film also provides some hope and inspiration. Some of the victims who are interviewed share how their lives have been turned around and how they have been able to overcome the trauma they had to endure whilst being trafficked. They are not just survivors, they are heroes daring to make a change. And that change is seen and felt in this film.
As a feature documentary film, 'California's Forgotten Children' is poignant and needed. The film's writer and director Melody C. Miller has done a great service to humanity and millions of children across the world d by making this film. 
The public needs to know the reality of child trafficking and that a lot can be done to help stop it. Hopefully, this film goes a long way to make a much-needed impact of not only creating attention and sensitization but also helping reform the minds of criminals and enablers of this.
I would score this 4 out of 5 stars. It is no surprise that this film has gathered over 15 nominations. It is moving as well as informative whilst serving as cautionary tale for everyone.
California's Forgotten Children is now available on Amazon Prime, AppleTV, Google+, do make sure to watch it.