Movie Review: BORGA – A Migrant's Tale of Family And Sacrifice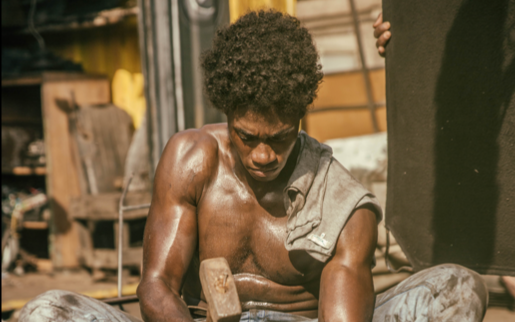 BORGA is a story of many young African's and not Ghanaian's only. There is always the quest for greener pastures and a better life. But nothing is never really promised abroad but the frustrations of living in poverty and wanting a better life are just the motivations anyone needs to make that want to take any risks.
The term 'BORGA' is used to describe a Ghanaian abroad, living an excessively wealthy lifestyle either genuinely or by creating an impression that he/she does.
The film is about a Ghanaian migrant and his quest for greener pastures. His journey to discovering himself and what he really means to his family.
Kojo gets convinced by his friend that life in Europe is easier and more rewarding. He decides to risk it all and make that journey to Europe. He too must become a Borga at all cost. After all, 'Borga' is better.
After many years off journeying through Northern Africa and making it to Europe, he ends up homeless on the streets of Germany. He's long realized that things aren't as smooth and easy as he had been led to believe before leaving home. But he can't return home empty handed.
Kojo's motivations are clear, he can't go back home as a disappointment. He must return successful at all cost, after all that is what everyone expects of a Borga.
He lands an opportunity to visit home to show to his people that he is living an excessively wealthy life abroad. But that comes with a risk that he is certainly willing to take.
BORGA is honest in its narration of some of the hardships that migrants are likely to face whilst trying to make it to Europe illegally. It is also honest in telling how families are also responsible for sometimes pressuring migrants into living that lie of being a Borga.
What you would also appreciate about this film is that is subtly captures in good detail, the basics of Ghanaian family values which are responsibility, respect and honor. As a young kid, Kojo is reminded about these values by his father. Later on, as an adult, his brother also reminds him of those values, it is his duty to take care of his family and he can't whine about it.
As is the case of many Ghanaians who manage to travel abroad, it believed that is their duty and responsibility to cater for the family back home. Even if they are aren't doing any better for themselves.
In Kojo's case he believes he has to prove a point and must return home successful. Even if that means getting involved in illegal activities.
Just like in many situations, the relationship between the two brothers is further tested when Kojo arrives to realize that all the money he sent for the family's building project had been misused by his brother Kofi (Jude Arnold Kurankyi).
The film manages to capture Accra, Ghana in its full aesthetic glory. With a few scenes, you able to identify and distinguish between the glamour/luxury of well to do and high-income earners as well as the suffering of low-income earners who have to struggle to make a normal living. The visuals are simply pleasing and adds up to the viewing pleasure.
The acting talents in this film also makes it worth your while. Most notable is the film's lead Eugene Boateng. He plays Kojo with so much heart that you would want to believe it is his life story. He serves as the perfect anchor of a Ghanaian- German migrant that is the center of this story. He delivers decently in both German and Twi dialogues as required of the character and his interactions with people both home and abroad.
Ghanaian screen royalty, Lydia Forson also delivers brilliantly as a mother who is willing to let her child go on a risky journey. Even when her character has aged when Kojo returns back home, her performance is not only believable, it is moving as well.
BORGA isn't just a film about migrants for migrants, it is a story for everyone that has to be seen by as many people as possible.  I would rate it 8/10.  I can't think of any feature films that have told stories from the perspective of an African migrant and tells it the honestly as this.
The film is still showing at the Silverbird Cinemas Accra, every evening. Do not hesitate to go see it if you haven't.
Hopefully, it would be available on streaming soon to reach the much wider audience that a story as enthralling as this truly deserves.