Movie Review: 'The Old Ways'- Traditional exorcism.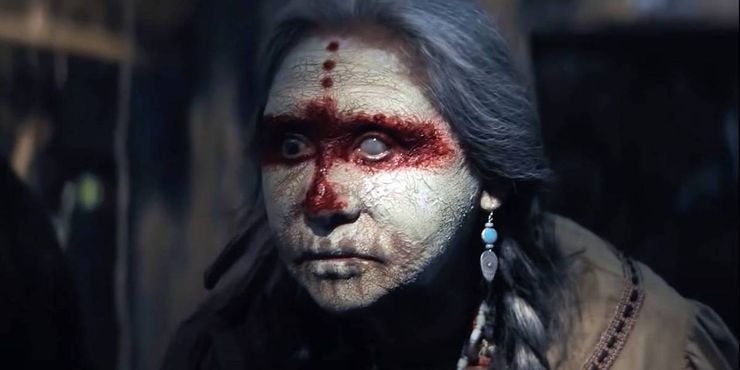 'The Old Ways' is a film about exorcism none like most you've seen. And that's the 'magic' that works for it. 
Cristina, a journalist of Mexican origin, travels to her ancestral home in Veracruz to investigate  story of sorcery and healing. There, she is kidnapped by a group of locals who claim she's the devil incarnated. She must give in to the old ways and have her soul saved or lose it to damnation. 
Cristina believes that she is great at her job. To her, her job is to go to places that people tell her that she can't go to. But that can't always turn to work in her favour.
At the beginning of the film, we see a young Cristina at her mother's side as she is been freed from the demons she is possessed by. She assures her mum "I am not afraid, Mama, I am strong."
You can see that even as an adult, she is strong. She wanders into places by herself. Until she was captured by some locals from her hometown Veracruz.
Once they start with her exorcism, she doesn't seem moved or impressed, to say the least.  The process is gruesome and tortuous. She is convinced that there is nothing inside of her that needs to be forced out.  But she finally starts to see and experience things that change her perception and then she begins to comply.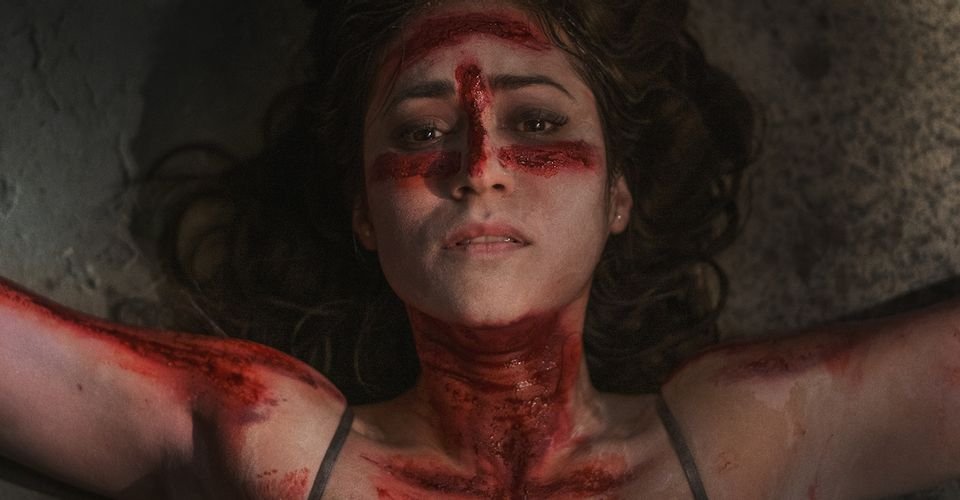 Cristina is played by Brigette Kali Canales. She does well at portraying the character of a strong-willed non-believer who is slowly won over. As a sceptic, her anger and disdain for Luz and her rituals are felt. And even as she is transformed into a believer you get to feel her fieriness is being channelled for the sake of 'the old ways'.
Andrea Cortes who plays Miranda, (Cristina's cousin from the village) also delivers well in her role. She is mostly the voice of reason for her cousin and helps in getting her to believe in the old ways.
Directed by Christopher Alender and set in Mexico, the film plays well on the traditions of the people to tell the story. Luz the witchdoctor or Sharman uses incantations and spells to aid in her exorcisms as opposed to Latin that is used in most films of this kind. 
The film focuses more on exorcism than even trying to give explanations to things that go beyond the physical. Truth is, the story doesn't seem like it should be longer than it turned out to be. It is more about Mexican mythology than the typical exorcism stories with priests, crucifixes and holy water. 
There aren't your typical jump scares that are meant to startle and make you want to run and hide. However, there are a few moments that are guaranteed to make you crawl under your skin.
Overall, the visuals are pleasing enough. Aesthetically, it looks and feels like something made by any of the notable big studios who like to delve into the horror genre.
The cast is small but it works for the story. Cristina and her captors are most often those you see in a shot. The art direction also helps with setting and maintaining the film's creepy and unsettling vibe.
This is certainly a film made for exorcism fanatics. I would score it 6/10. It brings a decent enough meaning to its title 'The Old Ways' whilst holding your attention and scaring you enough to make you not want to mess with old traditions.
If you are a fan of films about possessions and exorcisms, this is something you should certainly see. It provides a truly refreshingly perspective into the subject matter.