Stage Play: Medicine For Love *April is Born*
GhMoviefreak is very much appreciative of Miss Budu-Acquah for helping us with this review.. Enjoy the read guys.#Cheers
Mmmmm…
I don't regret the Friday evening rush hour hustle I had to go through to catch a seat and watch this first ever production by the April Communications…. Medicine For Love.
Let me just say, Naa Ashorkor and her team did a great job by pulling this act together. From start to finish, they had every single detail covered. The stage set was nice, suited the concept the play came with, even the costumes worn by each character helped with the definition of who and what they stood for. Well, maybe except the medicine man who had a cute blue blazer on some good shirt with braces and pants  Unless of course am told that is the 21st century dress code for medicine men. (lol).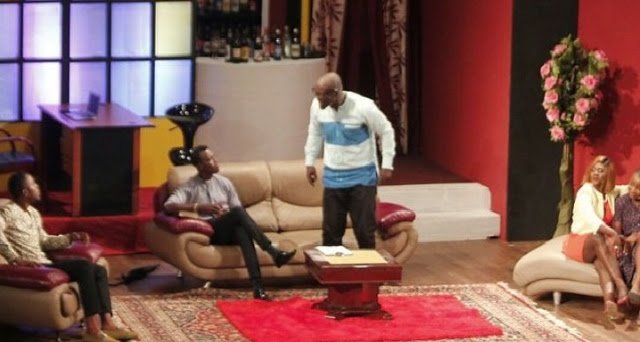 The turn out was quite impressive. The media publicity for this was good.
The play… Medicine for Love… centered on Mr Tawiahs love/ family life and political strife.
The opening scene had him call out for Kofi… his personal assistant to write a letter to Aunty Bea , explaining to her the need to hold on with her decision to bring a wife to him since the two influential chiefs in the village had already performed the marital rites of Atwei and Becky as wives. They were currently living with him not alone but Atwei had the mother and sister while Becky had also brought his old dad along. Reason is, either of them suspected the other of having the thoughts and potentials of preparing medicine for love So Mr Tawiah would choose her over the other, and So that was their task force and back up. Unfortunately his Aunty, wouldn't even wait the reply to her very first message, Efua Kwansima, the supposed wife, a princess was already on her way coming.
Mr Tawiah's frustration could only worsen as his political ambition had ended with him selling his properties and spending all his hard earned money on campaign sand propaganda. That couldn't have been all, his hard strong willed Aunt had moved into his apartment too.
So now the war;  Atwei a simple Ga girl who was spontaneous with the throwing of hands and gifted with fighting abilities backed by the mother, another hard woman with a strong mind verses Becky, a more sophisticated heavily shaped African beauty with exotic taste and a wide sharp mouth.. you can trust her painful words…and these two enemies joining forces  against  Aunty Bea the instigator and Efua Kwansima the proposed 3rd wife. Well, she won the battle after all because eventually Atwei found a handsome doctor to marry, and Becky went ahead with poor Kofi, Mr Tawiahs personal assistant. His medicine for love which was writing short notes and mails to Becky.. This indeed attests to the fact that.. Sweet little simple things get to women the most.
The details is for you to find out and the viewers to know.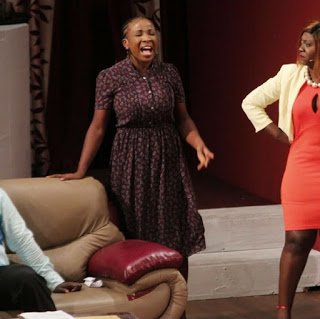 But the play left me with a lot of lessons to keep in my diary. I have been to a couple of stage plays before but I cannot compare the level of satisfaction I had with this one to any of the others. The actors made it very difficult not to pay attention. The key element for every stage play is humor..  Medicine for love had it good.
I still think some scenes could have been shortened to reduce the boredom. In effect, the whole play lasted close to 2hours 40 mins, which I feel was a little too much.
Also some backstage activities were pretty much obvious, especially the arrangements of chairs and some of the props for some of the scenes.
In all I would rate it a 7/10 . I enjoyed every bit, good grammatical construction, expression of emotions was on point, and coordination among the characters was dope not forgetting the occasional blend of the Ghanaian language.
I say kudos to April communications that was a good job on stage. I would gladly and willing brave through an apocalypse like traffic to make it to any production from Aprils Communications. They have really won me over.
I like what Becky said at the end..#suspicion breaks the home and truthfully Sometimes none is guilty but suspicion..