Superfam Network To Stage, A Comic Play "Arsenal Again?"
The Pandemic has taken a toll on us all and given that cinemas and theatre halls are opened, for the first time in a very long time, we get to experience the typical, traditional theatre setting on the 30th October 2021. SuperFam Network is poised to give you a full dosage of what you've been calling for – a Stage Comedy Play dubbed "Arsenal Again?".
SuperFam has over the years, treated patrons to various hilarious stage plays -popular among them are; Are We Safe??, Accra We Dey and Inspection… the next in line, which has got lots of people talking is dubbed Arsenal Again??
This play takes an educational and captivating turn with constituents of comedy that touches on customer care service, time management, risk-taking in business. These are intertwined with challenges entrepreneurs face in their business and how to go about solving these challenges to ignite growth and development…
The director of the numerous SuperFam plays is still at the helm of affairs with this art piece. His directing which is known to have a powerful tone, economic with actors' movements and soliciting great performances from actors is expected to be at play here. Not forgetting the touch of a comedic masterclass he always takes us on. Hence, with Francis Tetteh Nutakor, the "Oxygen" of theatre at the wheel, we will surely smile at the storm of laughter about to hit us.
Arsenal Again?? stageplay features the usual suspects who deliver uncensored humour, Willie Chembez, Foster Romanus, Lawyer Nti, Jeneral Ntatia, Daniel Delong and many more.
The play will be staged at the National Theatre on the 30th October 2021 with two showings at 4 pm & 8 pm.
Dial *447 * 1059# to purchase your ticket via mobile money on all networks at Ghc 60.
For more information and/ sponsorship please follow @superfamnetwork on all social media platforms. Or contact 0506780720.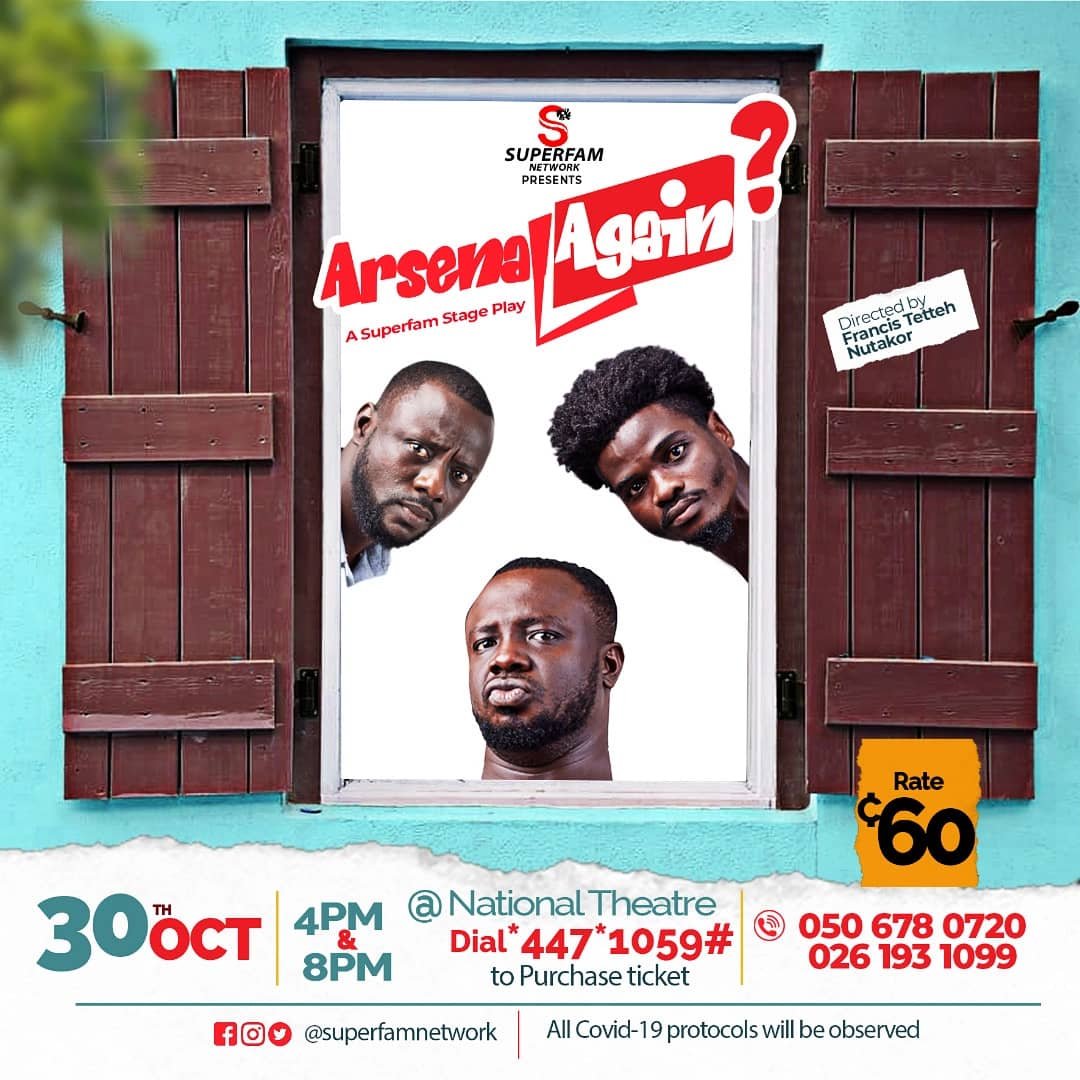 Credit: Faiba Bernard