Web Series Review: Till Sunset – The Journey for Success by Young Graduates.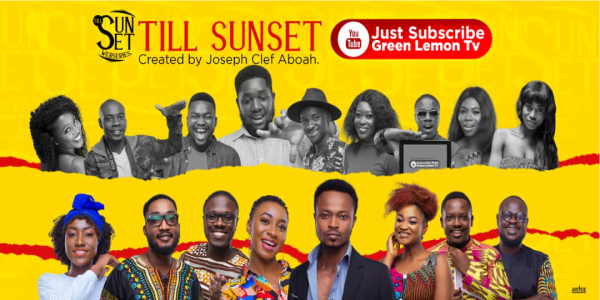 The trailer for 'Till Sunset' caught our attention earlier this year and we had been waiting to see it. We finally made some time to see it and we would absolutely recommend it for you as well.
Till Sunset tells the story of some university graduates who after completing their National Service could not land themselves a job and hence surged out  to discover and chase their individual passions in life.
There is Nana Kwame, a Business Management degree holder who has dreams of becoming the next biggest actor in the country. He is romantically involved with two ladies, Baaba and Dora who have no idea about each other.
Baaba appears to be a feminist of some sort who is focusing on empowering the young ladies in her community. She preaches abstinence and applies that strictly in her relationship with Nana Kwame. Dora on the other hand appears to be wilder and freer. An undergraduate Law student, who is been forced to pursue a career, she has no interest in, just in other to continue the family's legacy. She spoils and spends on Nana Kwame.
And then there is Joojo, another university graduate who has been struggling for employment so falls back on his writing hobby as a scriptwriter looking to make a name for himself.
Steve, also a university graduate also struggling to find a job decides to make a living hustling and making a living out of anything he finds worthy of selling. And finally, there is Phil. Unlike the others, he's fortunate to have an easy life since his parents live abroad. But he still chooses to make is own living and ventures into his passion of training and managing models.
The first 4 episodes we have seen so far does great at introducing us to the some of the characters and maps out what their backstories are and how they are all linked together in the series. Although we are able to identify some distinct personalities of theirs, we are hoping that their backstories are well detailed to make us better appreciate some of their choices as the series continues.
So far, the actors / talents are settling into the characters they have been tasked to play in the series. As the story progresses, we are getting to see the character flaws and strengths.
The series created and directed by Joseph Clef Aboah puts into perspective the lives of young adults in present day Accra and some of the challenges that come with it. The struggle for young adults can come so many ways. From dreams and aspirations, relationships, family pressures and financial challenges. He describes the series as a spin on his personal experiences as a young film maker.
We are hoping by the end of the season to see how deeper the lives of these characters are connected and how they end up influencing or contributing to each other's struggles. The series so far promises to be a dramatic rollercoaster ride for the characters and the journey for success in their various chosen fields.
It seems there are too many characters to keep up with in this series and we are afraid it might get too difficult to follow when the plot begins to thickens. We can only expect that the buildup is solid and doesn't leave any of the characters that might be key in telling the central story out any point.
If you haven't started watching this series yet, then there is no time to waste and a little for you to catch up on if you start now. This promises to be something fun as it progresses.
You can watch the first episode of Till Sunset below.
The series stars all fresh faces, Andy Tetteh, Dennis Cobblah, Nana Arhin Sam, Nana Omari Dwamena, Mimi Buari, Efe Clement as well as a host of others.
Although we would have preferred for it to be much lengthier, the episodes average 10 minutes each, making it easy to stream online and enjoy even on mobile devices on the go at your conveniences.
The suspense and the cliff hangers at the end of each episode so far succeeds at whipping up your interest for the next episode. But we would have still loved to see more of the story unfolding at a faster pace per episode. The excitement is there but needs to be sustained all right to the end of the season.
You can watch the remaining episodes of the first season of 'Till Sunset' on The ON Channel (USA) Aukiss TV (Canada) and MTN Shortz (Ghana).
If you are also watching "Till Sunset" share with us your thoughts and expectations on it in the comments section below.