Stageplay Review: 'Potholes' Unexpected Wrinkles In The Journey of life.
As his way of climaxing the celebration a decade of authentic storytelling with his latest stage plays, Nii Commey brought to us another play over the weekend at the National theatre titled 'Potholes'.
Potholes is a story set somewhere in Ghana where a struggling community decides to push for a revered man of God to be elected as their representative in Government. Meanwhile there are obstacles that would be thrown onto his path to make sure that it doesn't happen for him and the people that are fighting for him to take up the reins of leadership.
The story plays around the subjects of politics, religion and social expectations. With majority of the play set in the home of Bishop Trinity, the man of God, we see the characters break down what their thoughts and expectations are, for those they elect to lead them. And this presents a true reflection of our current society and how voters decide on who to vote for and why.
Bishop Trinity is originally skeptical about running for office, as he doubts if he's cut out for the dirty dealings that comes with politics. But he gets convinced by the people around him and his own daughter. But he is completely oblivious of the challenges that would come his way to test his faith and his resolve. After all to who much is given, much is expected.
The play subtly brings to bare the unexpected challenges we meet in the journey of life. How it changes things for many, as some find smart and intelligent ways to maneuver and continue the journey whilst others get hit and succumb to the depths of these challenges. Sometimes the potholes can be huge and glaring, at other times they could be small and unexpected. But either which way they could pose a threat to you reaching your destination/goals depending on how well you are able to handle the situation. Bishop Trinity's situation gives us a good look at how sudden things can change for anyone.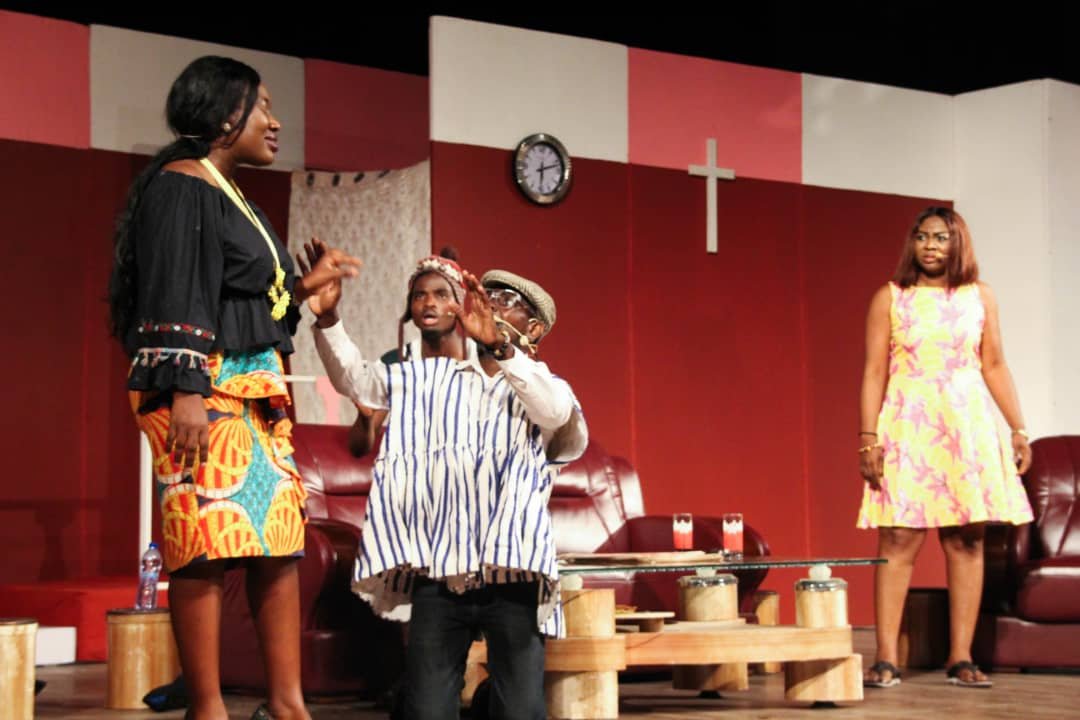 The star of the night in this play, for us, was the character Kpakpo played by the rising talent, William Odartei Lamptey. We believe he is doing well to live up to his sobriquet "The Greatest Showman".  For us, he was an anchor that held most of the acts in the play together. Providing enough humor at each stage and reminding us that satire was a key element in the story being told.  His portrayal of the loud mouth, hyper and overzealous Kpakpo was very well delivered on. Most importantly, he didn't outshine his counterparts on stage and only complemented their performances when need be.
We can't also overlook the divine vocal dexterity of the character 'Ngosra', the silky voiced praise singer played by Eunice Quaicoe Tornyi.
We chose to score this play 3.5/5 stars. It had some dry spells that seemed to only succeed at lengthening the acts much more than we had expected rather than contributing anything significant to the story for us.
A greater part of the production of the first showing on the night was riddled with some terrible interference from the stage monitors that was very uncomfortable to sit through for us. But for the focus and determination of the talents on stage to keep the show running, it would have been very difficult for us to actually enjoy and focus on the story being told. They stayed in the act and kept the show going regardless of the glaring and uncomfortable technical challenge.
The play truly is "filled with an alloy of social, cultural, religious and political issues that have unbridled us as a society" as described by the playwright Nii Commey.
If you missed out on this play then you missed out on another good one. Be on the lookout for Nii Commey's 'Potholes' and make sure you don't hesitate to go see it.