Documentary Film Review: Facing Nolan – The Myth & The Legend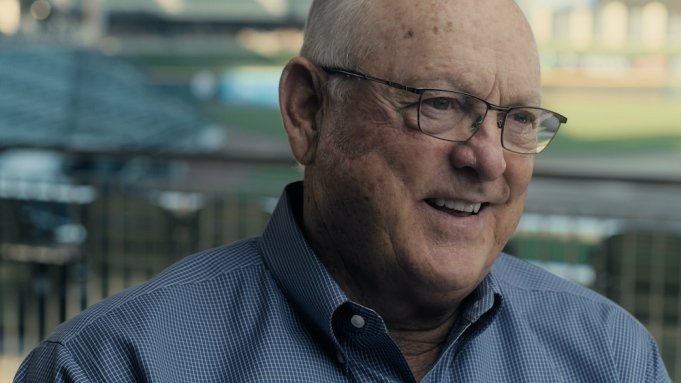 This is a non-fictional documentary film about baseball living legend Nolan Ryan. The film details Ryan's life growing up in a small-town Texas, his schooling, marriage life and his endeavors on and off on the pitch.
Ryan Nolan married his high school sweetheart Ruth and for 35years they have been together.  The film also captures the start of his career with the New York Mets and how we went on to become one of the highest paid baseball players of his time. He also played for California Angels, Huston Astros and Texas Rangers.
It's amazing how his career as a pitcher was one career high after another. And as you watch the documentary, you begin to expect that dramatic moment where things unexpected go awry for the protagonist and his career takes a drastic nose dive. But that never happens in Nolan's case. It is almost smooth sailing for him right through till he retires. Even when he is starred in the face by injuries it doesn't threaten the longevity of his career.
From the film, we also learn about how Nolan had to work during off seasons to be able to make a comfortable living for the family when baseball wasn't paying that much. There were some moments that he contemplated quitting.
The documentary film also features George W. Bush as one of the interviewees. He was the CEO and part owner of Taxas Rangers around the time Ryan signed to the team. In his interviews he speaks highly of Ryan's work ethic and dedication to ensure that he was always in good form.
Ryan Nolan's story is not only fascinating, it is inspiring not just for sportsmen but anyone who detects their talent's and commits to ensuring that they are the best always.
Even as someone who doesn't understand he sport, I found myself engrossed in the journey and wins of Ryan through the documentary film. You could feel the impact that he had on the game and how his opponents found him intimidating to face even at age 42. His presence on the pitch almost feels enigmatic but he still keeps a calm composure that makes him even more likable. And I had never heard or read about him prior to seeing this film. You do not even have to be a fan of the sport to fall in love with this film and the person it is about
Just like his talent, his persona is inviting and draws you in. And we see that still even after all that he has achieved.
There were times when he was the hero and villain on the pitch. Feared by his rivals and revered by his team mates. May admitted to dreading having to face Nolan. And found themselves stunned at times when they were actually able to hit his pitches.
He retired after raising his strikeouts to a record number to 5,714 over 1000 strikeouts ahead of Randy Johnson another baseball legend who also speaks in the documentary. He also holds 50 other 50 records,
Several other baseball legends are featured in the documentary speaking about Ryan Nolan's greatness.  They include, Mets catcher Jerry Grote, Rangers' catcher Iván "Pudge" Rodríguez, Roger Clemens, Rod Carew, Dave Winfield, George Brett, Pete Rose and Craig Biggio.
He holds several of baseball's records and its even impressive that he achieved all that over a span of 27years with even the last 7 years of active playing being some of his best years.
Regardless of what you might think after watching this film, he is truly an icon and his legacy has been cemented further with a film such as this that captures in true detail all that there is to know about his illustrious career
As a documentary film, this is spot on, well written and directed. It captures and shows not only the legend that Nolan Ryan forever will be, but also the beauty of the sport.
I would rate this 4 out of 5 stars.